A ha!
Photobucket kept trying to tell me that the Invisible picture was there.
I went into my files and renamed it, and Photobucket downloaded it in 2 seconds.
So pfffffftttttt! to them.
Here is my Knitpicks dyed yarn from Tuesday night.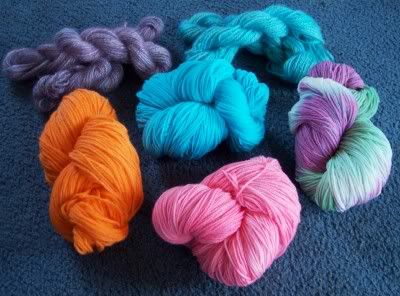 The orange was done with Mandarin Orange KoolAid and the Blue was Neon Blue food coloring, both done in the microwave.
The pink is Watermelon Cherry Kool Aid done on the stove.
The variegated is very watered-down Forest Green from the Fall food colors pack, with a purple that is a blend of Grape KoolAid and Neon Purple KoolAid, done in the microwave.
The Orange is Worsted weight and the other colors are Fingering.
The 2 yarns at the back are a mohair my friend Jackie sent me, a very pale green to begin with that I dyed with purple, blue, and green food colors mixed together in varying amounts - leftovers from dying the yarn below.
Finished my striped socks last night, will try to get a pic of them for tomorrow.
Tonight is what Billy refers to as The Best Night on TV All Week.
This means I will be nowhere near the living room as what he considers to be great TV are shows I just can't stomach. Oh well, the Novelty Shawl from Hell is calling my name and all the yarns for it are by my bedroom chair. Maybe knitting 35 kinds of yarn on big needles will put me in a hearing-impaired trance. *wink, wink, nudge, nudge*