I can tell those people who are a little too fond of Crazy Aunt Purl. The ones who read her blog and admire her style. It's just a little something they add when they are doing their own posts.
I'm just saying.
Sept. 30 was Chewing Gum day, a fact I was going to terrorize Weaselrina with, but I forgot. Darn.
I have a new book, some dpns, and some yarn to make a scarf for my bro's birthday in the trunk of my car. It was being hidden until Billy was working (today!) as I am tired of snarky comments...you know the ones - "You don't have enough yarn already?"
The answer is, of course - "No. No, I don't. And I never will. Bwahahaha!"
The
RT
Project
is toast. Scrapped in it's present form. It is so hideous that I would not even use it for an animal blanket. The design idea was solid and I will try it again at some point, but the mostly novelty fibers that are going to into it did not work. I can't even block it out. I have so much yarn that I don't need to frog it, although I will salvage the middle which is a mohair rectangle. I will be doing a quick thing with size 19 needles and holding a strand of acrylic with some of the thinner novelties.
My hubby burned my latest hat. Literally burned it. It was a rolled brim hat in TLC Amore and I had tossed it on his lamp while he was at work. Last night he turned his lamp on and....my hat is no more. Trashed. And he blamed me. How a person cannot see a blue hat that covers almost the entire lampshade is beyond me. Way to go, Mr. Fireman. (Yes, I am being snarky. I just sort of smiled last night and said, Well, at least it was a quick project, and let it go but I am rather miffed. Especially after the, Did you make that? Shouldn't leave it on a lamp, comment.)
I think I will go get my new book out of the trunk - all about Arans and Faire Isle.
I will leave you with the pics of my first stranded/Fair Isle work. It is meant to be for a newborn...hope she is a small newborn.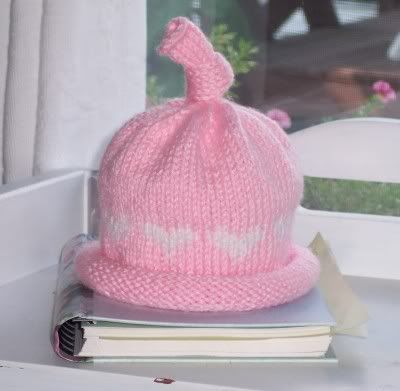 And the inside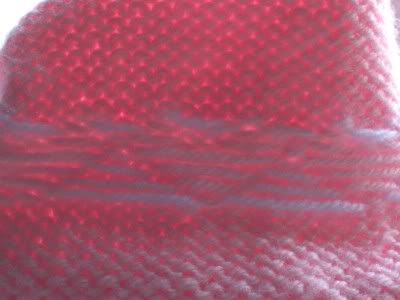 I am quite pleased with myself and ready to move on to something harder.

I'm just saying, is all.