I finished my socks today, which is to say that I grafted the toes on both which is all I had left to do after yesterday but I was not going to be playing with THAT at knitting group. I prefer to look a bit more Cool there. Peering at a paper and repeating out loud, "Knit, drop off, purl, leave on, purl, drop off......" does Not contribute to Cool.
So here are my new socks:
and another view (how exciting!):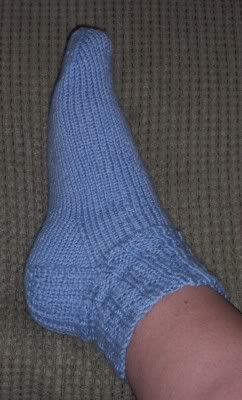 The picture that I took of them laying on a chair, sans feet, refused to be read by my camera.
These are still a bit too big for my feet. I think that I am not measuring correctly. I was told at my LYS that the heel flap should not come all the way to the floor/end of heel, but a bit above. So I measured for the foot accordingly. When I put the socks on, the heel flap comes to the floor (even after I made it shorter) just like my first pair.
So I looked closely at the pictures in all my pattern books and darn if they don't all have the heel flaps touching the floor or even going a bit under the heel!
I am hoping someone with Great Sock Wisdom will help me out here. I love making socks and love even more having socks that are not yards long for my 5.5 size foot.
And Now For Something REALLY Annoying
I suspect that I am allergic to the wool in the above socks, although why it didn't bother me while I was making them is a mystery. It is lovely wool, and I bought more of it to make more socks, some fingerless gloves, and a hat and scarf combo. I may be doing some Knitty swaps.
Anyway, I put the socks on and wore them for a bit before washing them..you know, flaunting them in my Guy's faces - "Hey, look! I made MORE socks!" - and later, after they had been put in the washer I noticed that my right foot, which was wearing a sock while I grafted the second, was itching and had a couple of red places.
I am hoping something bit me when I walked in the empty lot to check on Alex.
My hand is now itching some, too, and I am strangely glad.
I will be seriously Unhappy if I cannot use this wool. Better to have been attacked by Strange Chemicals in Hand Lotion, or Fire Ants, than to be unable to use part of my stash.
Any thoughts, comments, suggestions about the heels of my socks would be wonderful.
Charity Knitting
Among other things, I make tiny blankets for SHARE at one of our local hospitals. Babies that are lost to miscarriage, stillbirth, or other reasons, are wrapped in these blankets while their parents say good-bye, and it is something for them to keep. We thought that we would lose Alex before he was born, so this is something that truly tugs at my heart.
Here are 2. The blue is Microspun on size 4 needles, the other is Sirdar Magic on size 6s. The 7" dpn is for comparison, and you can see some of my craft room as I purposely did not crop this photo.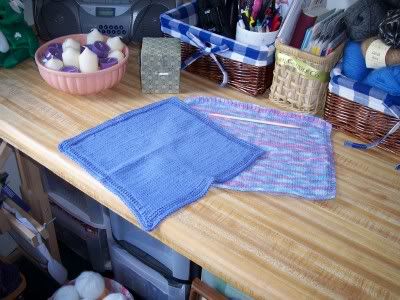 I will be making some 7 X 9 inch rectangles to contribute to Knitty's efforts to help survivors of Katrina (such a lovely name for an ugly, ugly, thing). They will be made into Warm Up America blankets and distributed in the afflicted areas.
My heart tears a little every time I hear or read more news from that area. I wish I could do more than knit and pray and send a little money. It seems so small in the face of such devastation.
Well, the dryer is buzzing (like I care), my other hand and leg are itching (yes! maybe it's my new soap!), and Alex says he is hungry (which I have to do something about since Billy is working) so I suppose I will have to leave CyberSpace for Real Life....for a little while, anyway. ;-)