Another lovely package from my Sp, as I mentioned yesterday. It is full of Girly Goodness and I am planning on an afternoon of using all these yummy packages. I just love the little cucumber slices! More delicious chocolates, some very soft mohair, a journal and pen (no males will be touching That one, which means I now can be sure of knowing where one pen is - and don't I wish I were as glam as the girl on the cover? Yes, I do. ), something lavender to keep the moths from my stash, and isn't the Shower Flower neat?
Thank you, my SP! I hope you are being spoiled, too!
In knitting news -
I am very pleased with my Sophie bag. It knit up in a day...
...prefelt it was 10 1/2 by 5 inches on the bottom, 13 inches across at the widest, 11 3/4 top to bottom, strap 22 inches.
I love the color and want a sweater in it!
I felted it to a pretty firm fabric. This is a terrible shot...the color is too light for one thing.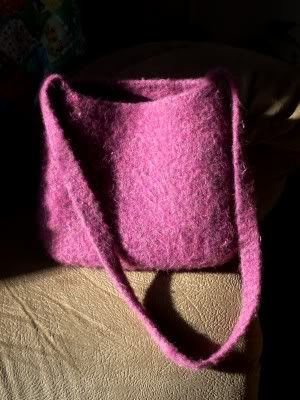 It doesn't show the shape, either. It ended up 8 by 3 on the bottom, 9 1/4 inches wide and 6 3/4 wide. The handles grew...I swear they did!...and are now 28 inches long (perfect length.)
I will definitely make this again, adding a small flap closure and a button next time. It took every bit of the skein of Cascade 220 - color #9441.
I love this color so much that I bought another skein and a pattern to make a felted hat to match my bag. A girl is nothing if not perfectly accessorized, right? ;-)