Billy is waiting for me to finish my Coke so we can go the store. Not my idea of fun, so I am stalling...hehehe.
Tuesday night was a great deal of fun. 3 people trying to dye yarn in a tiny kitchen was an interesting exercise. We must all be getting old, too, because Wed. at SnB the 3 of us were complaining of aching feet from standing so long.

My yarn is all dry and wound back into hanks, will take some pics this afternoon. I am very pleased with the way it came out.

To tide you over until then, here is some of the mohair I dyed over. It WAS a very, very pale shade of green.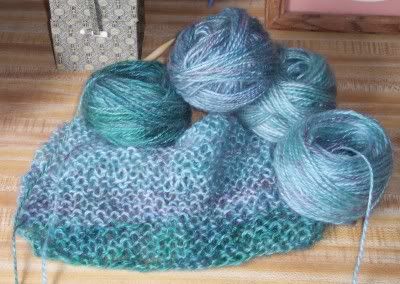 The knitting has all 3 shades used in it. It will, of course, be frogged...rippit, rippit.