This is Bobbles.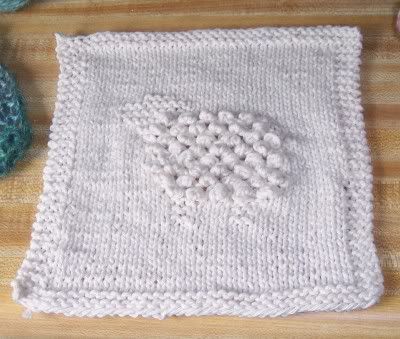 Say Hello, Bobbles!
Bobbles doesn't talk much. Bobbles just drapes itself across my craft counter.
Bobbles is pretty much a pain in the arse. Especially to knit. I discovered that knitting a bobble is not nearly as much fun as crocheting one. And I didn't even get to take Bobbles to the Guild's dishcloth exchange on Sunday.
I see a date with some hot soapy water in Bobbles future. Baaaaa!
I do have some good news....I am invited out tonight! To do things with other females!
Yes, I have made Real Life Friends at my Knitting group. Imagine that! 3 of us are going to Nancy's tonight to dye our Knitpicks yarn and just generally mess about. My childishly high level of excitement just shows how long it has been since I have done any socializing that wasn't church or kid related.
Is it 6 pm yet????